Booking surf lessons:
To book a surf lesson, please fill the form below, and we will contact you.
Where to learn
surfing in Tenerife
? Are there English-speaking schools in the Canaries? How much is it? How to start? The answers to these and many other questions related to surfing in Tenerife you will find in this article. So, let's go.
What is surfing: 
Surfing
is a kind of extreme water sport based on sliding on a special board (surf) on a wave. There are many variations of surfing in the world: longboard (sliding on a long board), shortboard (sliding on a short board), sapsurfing (standing on a board with a paddle), bodysurfing (lying on belly on a short board) and many others. The active development of technologies will allow adding new names to this list in the near future. Mainly sea and ocean waves are suitable for surfing, although rivers, lakes and pools with artificial waves are also not excluded. Hawaiians were the first to practice riding on water on waves, as part of a ritual. Today surfing occupies one of the first positions in popularity among extreme sports.
Surfing in Tenerife (The Canary Islands):
A great place to learn
surfing
will be the Spanish island of
Tenerife
, belonging to the archipelago of the Canary Islands. More than 20 surf spots for beginners and experienced riders are there. All year long there is a stable warm weather. The water temperature does not drop below 18 degrees Celcius, even in the coldest months. Change the wetsuits and ride all 365 days a year.
A particularly important and pleasant factor for Russian tourists will be the presence of Russian-speaking surf schools in Tenerife. Extreme sports are always associated with risks, so it`s very important to understand all the details the instructors are talking about. Obviously, it`s easier and more comfortable to learn surfing when instructor speaks your native language. The most popular place for surfing in the Canary Islands is the town of Las Americas with a spot on the surf beach - Playa de Las Americas.
The main advantages of the spot:
perfect for beginners;
left-handed and right-handed;
waves height from 1 to 4 meters;
convenient location;
parking;
everyday swell (a group of waves appeared due to a storm. The most suitable waves for surfing).
English-speaking surf school in Tenerife: 
Perfect communication between an instructor and a student is a very important aspect of learning, especially in extreme sports, so when choosing a surfing school, we recommend you to pay attention to English-speaking schools.
The most popular among our tourists in Tenerife is the English school Tenerife Surf Point, which is located a 2-minute walk from the surf beach - Playa de Las Americas.
At your service:
surfing trainings in groups and individually (theory and practice);
at the end of each lesson - photo and video analysis of your mistakes, for better skills mastering;
equipment rental (boards for beginners, boards for advanced surfers, wetsuits);
freshwater shower;
wi-fi;
lounge room and much more)
Location: Playa de Las Americas.
Working days: Mon - Sun 7:30 - 16:00.
Trainings start at: depends on weather.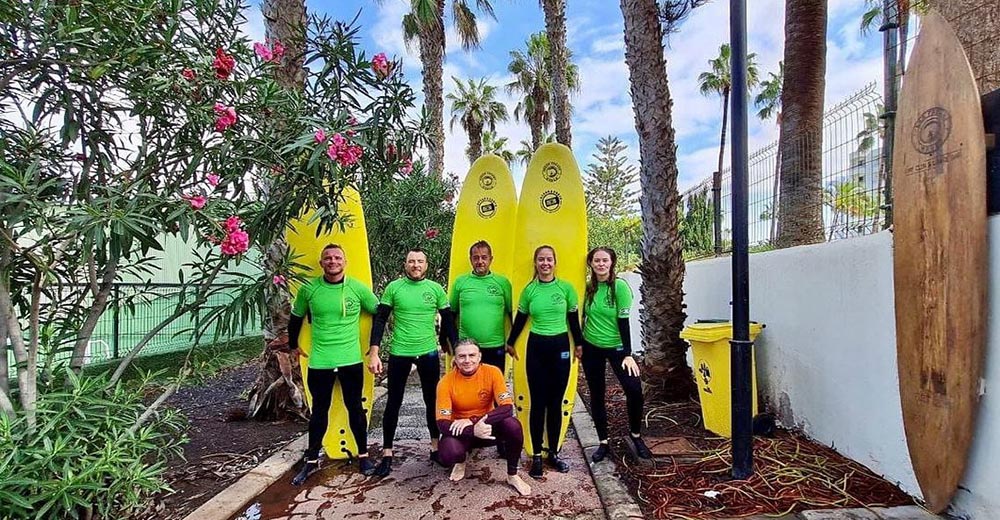 The cost of surfing lessons in Tenerife:
Group surfing lessons:
one surfing lesson - 40 euros per person (prepayment 10 euros);
package of 3 surfing lessons - 105 euros per person (prepayment 25 euros).
Private surfing lessons:
for one person - 70 euros;
for two persons - 100 euros;
for three till six persons - 40 euros per person.
The price includes:
training in a group or individually (theory + practice);
storage rooms;
equipment rental (board, wetsuit);
insurance.
The surfing lesson lasts about 2 or 3 hours.
You must have: a photo of your passport, a swimsuit or swimming trunks, sunscreen, towel, drinking water.
Booking surf lessons:
To book a surf lesson, please fill the form below, and we will contact you.
Our surfing instructors:
We are glad to introduce you our instructors who will open for you the wonderful world of surfing.
Instructor: Yuri

Instructor experience: since 2008

Spots: Portugal, Caribbean, Canary Islands

Stand: Goofy

Language: Russian, English, Spanish, Finnish.

 

Instructor: Sasha

Instructor experience: since 2010

Spots: Portugal, Canary Islands

Stand: Goofy

Language: Russian, English, Spanish, Ukrainian.

 
Location of our surf school and the nearest parking: 
Our surf school is located in the south at: Tenerife, Las Americas, Avda Rafael Puig Lluvina, 28, 38660.
Google maps;  Maps Me.
open in navigator
Free parking 10 minutes walk from the school:
Google maps.
open in navigator
Surfing in Tenerife (video):